Providing sound legal advice
and zealous representation you can trust.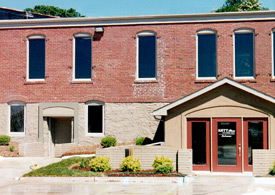 The H. J. Dane Law Office is a general practice law office with attorneys licensed to practice in the state and federal courts of Iowa and Illinois. The H.J. Dane Law Office consists of a dedicated team of focused litigators. Personal attention is a cornerstone of our practice and client service is paramount. We strive to be accessible to our clients: Clients are regularly updated on the progress of their case, questions are answered in a timely manner, and evening and weekend appointments can be arranged. We endeavor to provide clients enthusiastic, thorough, and effective representation in a professional setting. Our firm concentrates its practice in litigation of all types, representing civil and criminal clients in federal and state trial and appellate courts.
Our office is located at the historic and picturesque KSTT Place. Located half way between downtown Davenport and the Village of East Davenport (and directly across the street from the former Wonder Bread Bakery), the office is convenient for our clients located in both Iowa and Illinois. Our office provides handicapped accessible conference rooms and plenty of free parking.
A $20.00 initial consultation is available to review family law and most state law cases. The purpose of the $20.00 consultation is to review the client's legal questions in a 30 minute conference, and in most cases to provide the attorney's initial analysis, determine whether our office can accept the case and determine the retainer required for our representation. Some cases will require additional time and research (and attorney fees) before legal advice can be provided.
A $100 initial consultation is available for bankruptcy (debt relief) and foreclosure cases. The purpose of foreclosure and bankruptcy conferences is to provide an explanation of the client's rights, to prepare a demand to delay sheriff's sale in appropriate cases, and to review the information needed to proceed in bankruptcy (often Chapter 13 Save the Home Plans).
Clients with personal injury, worker's compensation and social security claims are provided free consultations and evaluations of their cases. Most personal injury, workers compensation and social security claims accepted by the H. J. Dane Law Office are accepted on a contingency fee basis – i.e., fee based on recovery and no attorney fee if no recovery is made.